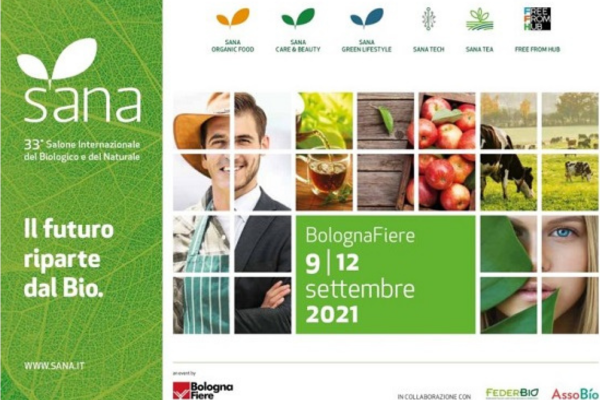 PAD. 37 Stand C71
The future restarts with organic.
SANA, the International Exhibition for organic and natural products is set to take place from 9 to 12 September 2021 in Bologna.
The organic sector, central to the strategies to kick-start business in the post-pandemic recovery, will be the protagonist of the 33rd edition.
The 2021 edition of the main national event and one of the leading events in Europe for the sector of organic and natural products has set the dates for the in-person event with new initiatives that will underline the importance and centrality of the trade fair for the entire production chain that is emerging reinvigorated from a year that has severely tested the global economy.
With its consolidated know-how and the initiatives implemented at institutional level with ICE-ITA and with the leading digital platforms, is without doubt the ideal platform with which to develop business on foreign markets.
The exhibition project SANA 2021 will includes six themed areas:
Organic Food: which will offer a broad overview of the agrifood production chain, examining new market trends, innovations and research
Care&Beauty: where exhibitors include producers of cosmetics, natural and organic personal care products and dietary supplements and medicinal herbs
Green Lifestyle: dedicated to consumers in search of products for a healthy, environmentally friendly and responsible lifestyle
Sanatech: among the new features in 2021 is the new themed exhibition Sanatech, an international exhibition of the organic and natural production chain
Sana Tea: an ideal path dedicated to well-being through tea and infusions
Free From Hub: a showcase dedicated to both free-from and rich-in products that are responding to a growing trend among consumers
Come visit us, we'll wait for you!