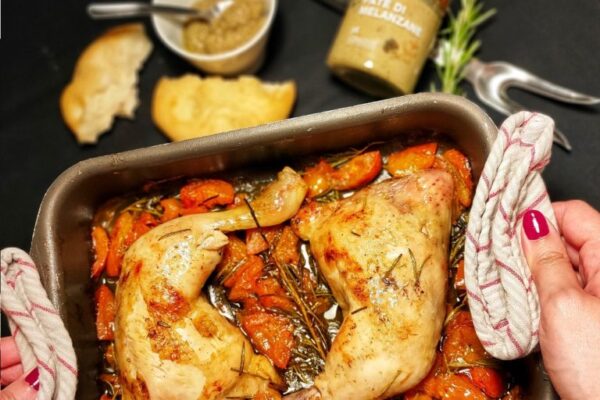 Ingredients
Chicken about 1 kg – 1
Garlic 2 cloves
Lemon ½
Rosemary 6 sprigs
Sage 5 leaves
Thyme 2 sprigs
Salt to taste.
Pepper as needed.
EVO oil to taste
Potatoes 1 kg
Tomato 300 g.
Convivia Organic Aubergine Patè 1 jar
Preparation
Prepare a trite of sage, thyme and rosemary, and place it in a small bowl. Moisten the smells with a little oil. With the help of a spoon, lift the skin of the chicken slightly and distribute the freshly prepared herbs under the skin. Cut a lemon into slices and put them inside the chicken.
Season the inside of the chicken well with a little rosemary, sage, 1 clove of poached garlic, a few teaspoons of Convivia Organic Aubergine Pate. Finally, add a pinch of salt and pepper.
Tie the chicken with kitchen string and transfer it to a lightly oiled baking tray.
Peel the potatoes and cut them into rather large pieces; put them all around the chicken, together with the chopped tomatoes. Season with rosemary, a pinch of salt and pepper.
Drizzle everything with a generous drizzle of oil and transfer the pan to the oven at 180°C, preheated fan, for about 60 minutes. Also check the cooking of the potatoes gradually: if they brown too much, about 15 minutes before the end of cooking, cover them with aluminum foil.
If necessary, finish cooking using the grill for 2-3 minutes at 220°C.
Take the chicken out of the oven and serve, accompanying the dish with plenty of Convivia Organic Aubergine Patè with every bite.
Enjoy your meal!