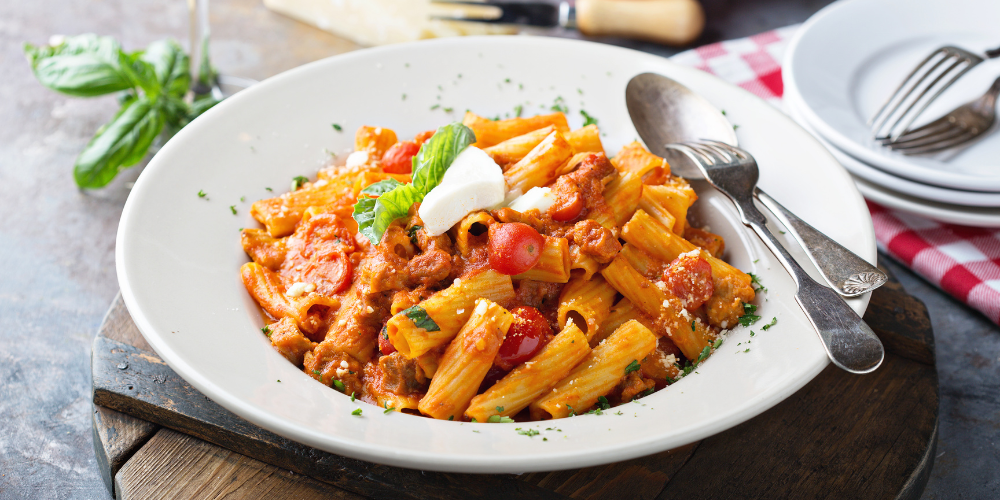 PREPARATION TIME
20 minutes
Ingredients
250 grams of macaroni
1 Convivia ready-made Mediterranean sauce
2 tablespoons of olive oil
2 cloves of garlic finely chopped
1 red chili pepper (optional) finely chopped
1 teaspoon dried oregano
1 teaspoon dried basil
Salt to taste.
Black pepper to taste
Grated cheese (parmesan or pecorino) for garnish
Fresh basil leaves for garnish
Preparation
Bring a large pot of lightly salted water to a boil. Add the pasta and cook according to the package instructions until al dente. Drain the pasta, but reserve a small amount of the cooking water.
In a large skillet, heat the olive oil over medium heat. Add the minced garlic and red chilli (if you want a touch of spiciness) and fry for 1-2 minutes, being careful not to burn the garlic.
Add the ready Convivia sauce to the pan and mix well with the garlic and chilli. Add oregano and dried basil. If the sauce seems too thick, you can thin it slightly with a little of the reserved pasta cooking water.
Let the sauce cook over medium-low heat for about 5 minutes, stirring occasionally, until heated through and the flavors blended.
Add the drained pasta to the pan with the sauce and mix well to ensure the pasta is completely coated in the sauce. If necessary, you can add a little of the pasta cooking water to make the sauce creamier.
Continue cooking for another 2 minutes, until the pasta is hot and everything is combined.
Taste for seasoning and, if necessary, add salt and black pepper to taste.
Transfer the pasta with ready-made Mediterranean sauce to a large serving bowl. Garnish with grated cheese and fresh basil leaves.
Serve the pasta hot and enjoy it immediately!
This simple recipe will give you delicious pasta with an authentic Mediterranean flavour.
Enjoy your meal!